More than any other image I took during my travel through Bhutan, I think the Tiger's Nest best captures the sense of awe and spiritualism I felt in Bhutan. The Taktsang Palphug Monastery was built in 1692 on the face of a cliff where Guru Padmasambhava (who introduced Bhuddism to Bhutan) meditated in a cave for 3 months.
My friend, guide, driver, and I got on the road from Thimphu to Paro at 5am, then hiked from 7 until 6 in the evening to capture this image. The climb up the mountain takes a couple hours and a 2300 ft verticle ascent to finish at over 10,000 ft. As a result, the site has a very limited number of tourists (1 when I arrived), even though it's only 30 minutes or so from the airport. The whole experience was absolutely serene and beautiful.
The Punakha Dzong lies at the confluence of two rivers (not shown here). One of them is a milky green, and the other a clear blue. It's very unusual and beautiful.
Chimi Lhakhang is also known as the Divine Madman's Temple. Drukpa Kinley, the Divine Madman, is a significant religious figure in Bhutan and well known for practicing his religion through sex and alcohol (there are phallus's painted all over Bhutan inspired by him). A child monk (perhaps 8 years old) tapped me on the head with a red wooden phallus as a blessing for 12 children.
This is one of 108 stupas on top of Dorchula Pass (which the highest point we visited, and a great place to see the Himalayas).
Prayer wheels can be found in monestaries and other places of worship throughout Bhutan. There is a tremendous variety of types. One of my favorites was the large water powered one which rings a bell as it turns in the rice fields near the Divine Madman's temple.
Photography is strictly forbidden inside monestaries (if your shoes have to come off, put away the camera), so I don't have any photos of these beautiful interiors, but here is the entrance to one of them to give you a sense of the style of painting. The imagery in them is very consistent from temple to temple, which gives a feeling of a very strong shared culture. Many of the works of art we found in Thimphu were based on these images, and I thought that the Bhutanese have some of the most beautiful art I've ever seen.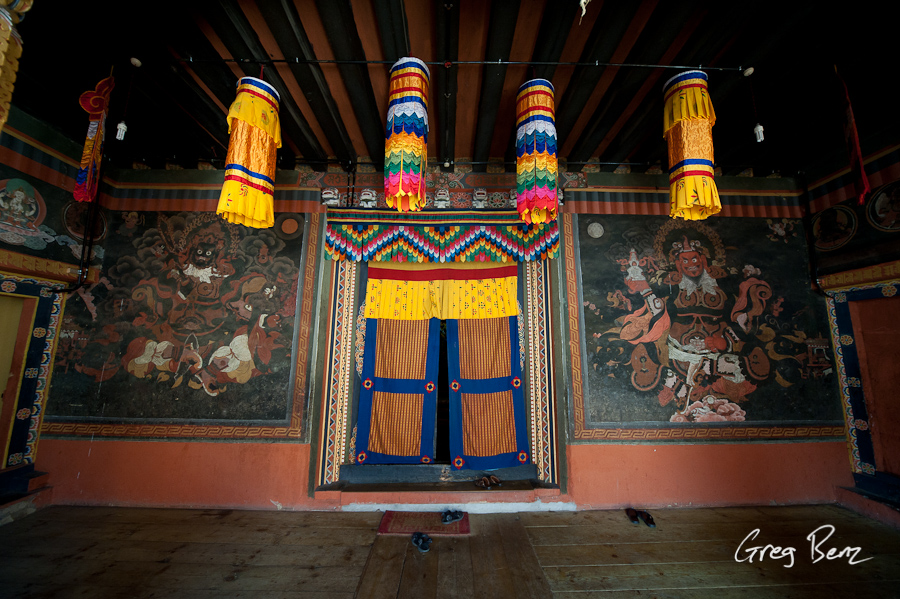 My guide told me that this man will do 1 million prostrations (he stands, raises his arms, lowers, slides his arms across this board until he is flat, and then repeats). 1 million! He'll do this for perhaps 12 hours a day for over a month. Some who aspire to do this will actually do the prostrations on the road as a way of traveling from one city to the next.
The giant Bhudda under construction in the capital city, Thimphu.