Capturing sharp stars and the Milky Way is one of the few genres in photography where special lenses are really a make or break deal. If your lens can't shoot at f/2.8 or wider, you're at a huge disadvantage (though you can always shoot log exposure star trails with such a lens). Those wide apertures are required to shoot with shutter speeds fast enough to keep the moving stars sharp.
I've used a Nikon 14-24mm for years with great results, including 40×60″ prints. But I've always had a nagging feeling that I could get better nighttime image quality with another lens. So I borrowed a few well-regarded lens and put them in a head to head test.  Below, see how the Nikon 14-24mm f/2.8, Zeiss Milvus 15mm f/2.8, Rokinon SP 14mm f/2.4, and Sigma Art 14mm f/1.8 compare in a field test shooting the Milky Way and night sky.
But first, I'd like to thank Brent of BrentRentsLenses.com for loaning the Sigma lens used in this test, and B&H for loaning the Zeiss and Rokinon lenses.  Brent runs a super-convenient rental business where he ships the lens directly to you along with a return shipping label.  The process really couldn't be simpler.  And I've bought the majority of my camera equipment from B&H for years, and always been happy with their prices and service.
I'm posting a quick summary and some 100% crops from the top-right corner of each lens below.  For a much more thorough comparison of image quality, be sure to see the video. There's much more to the story than this single group of images can tell, including: performance across the full width of the image, color quality, vignetting, and focus performance.
This test is designed to reflect real-world image quality based on performance in the field. My conclusions below are based on shooting each of the lenses under the most comparable settings I could. I shot each at the exact same settings at f/2.8 in the same lighting conditions, and additionally shot the Sigma and Rokinon at their maximum apertures to test their unique capabilities. All lenses were manually focused on bright stars via the LCD on a Nikon D810, which is the method I most use in the field. As manual focus is an imperfect method, I took several shots (refocusing several times) to help minimize the risk that my focusing technique would skew the results. But ultimately, that's the best gauge of the results I can truly expect with this lens.
Nikon 14-24mm f/2.8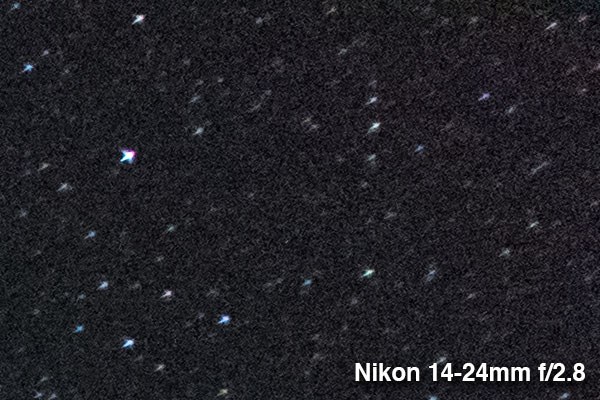 This has been my go-to lens for years. It's great, and I'm definitely keeping it. But for wide-angle night skies, it can't achieve the excellent stars that the other lenses can.
Pros:
Autofocus for daylight shooting
Can zoom to 24mm
Quality/Durability:  Rubber weather seal between lens and camera and some seals inside for better dust and moisture protection.
Cons:
The most difficult to manually focus at night. Manual focus extends well beyond infinity, making it hard to even find bright stars to start focusing. And the f/2.8 maximum aperture does not offer as good a live view as the Sigma and Rokinon. There's also a bit of slack in the focusing ring, which can make precision adjustments a little more tricky. Focusing on stars manually is always difficult via live view, but I found the Nikon was most difficult. That's a real detriment to image quality, as some images will likely be focused imperfectly. Reviewing the images carefully on the LCD is important with this lens to make sure you got the shot in the field. Thankfully focusing is easier with the new Nikon D850 (due to lower LCD noise), but I felt much more confident focusing the other lenses in this test.
Image quality is good across a broad range of conditions. But lack of sharpness and coma in the corners puts it behind the rest of the lenses in this group for astrophotography. On overall image quality, I would say that all three of the other lenses outperformed in this test.
Weight:  2.26lb.  Fairly bulky, but then you are shooting with the capabilities of an autofocus zoom lens, and it is lighter than the Sigma.
Available for Nikon only.
Price in US: ~$1897. Aperture range:  f/2.8-22.
Rokinon SP 14mm f/2.4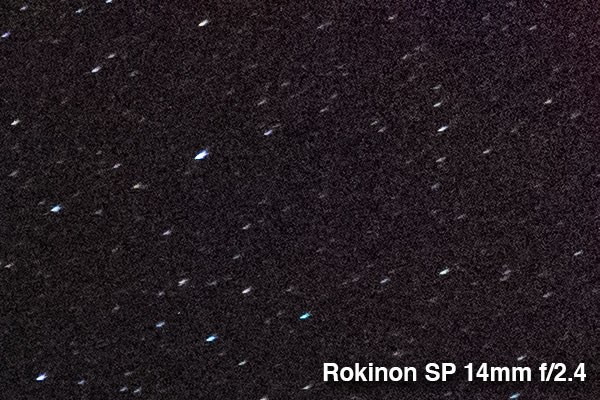 This is the lens to get if you want to save money or weight. I would shoot this lens at f/2.8 for best image quality, unless you need a little more speed for the Aurora.
Pros:
Excellent value for the money and the cheapest of the group.
Weight: 1.73lb.  The lightest of the group, and it feels quite nice.
Image quality is generally excellent, but the vignetting is a bit heavy.
Manual focus stop just past infinity helps quickly find stars.  The focusing ring is fluid, which helps manually focus precisely. The f/2.4 aperture provides a slightly improved ability to evaluate focus on the LCD.
Cons:
No lens profile support in Lightroom or Photoshop. Third party profiles are available for Canon, but I have yet to find one for Nikon. Given this lens has noticeable distortion, it's an import consideration, especially if you also wish to shoot architecture or other clearly straight lines.
Significant vignetting, but not as bad as the Zeiss.
Manual focus only.
There is no weather sealing, but this lens feels solidly built (and you aren't going to run into a lot of water on most Milky Ways shoots).
No 16-24mm coverage.
Aperture range:  f/2.4-22.
Price in US: ~ $999 for Nikon or $799 for Canon mount. (While I didn't test it, the non-SP version of this lens is generally well-reviewed and outright cheap).
Available for Nikon and Canon.
Sigma 14mm f/1.8 DG HSM Art Lens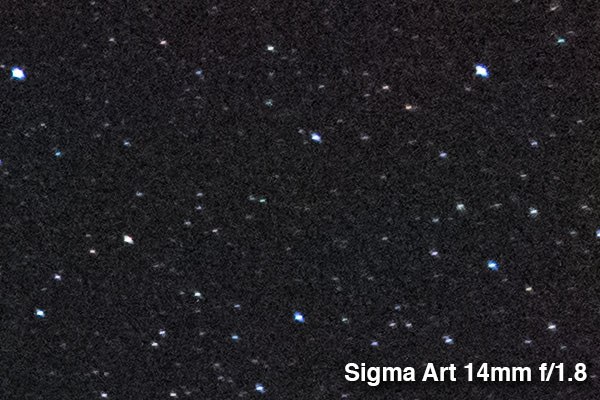 I love everything about this lens, except the weight. I found the image quality was the best of the bunch, if you shoot at f/2.8 for best image quality. It also offers the ability to shoot at f/1.8 for faster shutter speeds, which would be beneficial for shooting the Aurora Borealis. Note that the Sigma showed a slightly smaller angle of view than the Nikon or Rokinon, even though they are all 14mm lenses.
Pros:
Excellent image quality, the best of this group at f/2.8. (However, image quality suffers at f/1.8, and shooting wide open should be reserved for situations where shutter speed or image noise is a high priority.)
Minimal vignetting.
Manual focusing at night is relatively very easy with the wide f/1.8 aperture.
The f/1.8 aperture is a huge advantage for shooting the Aurora, which requires faster shutter speeds than stars.
Autofocus is very responsive and accurate for daylight shooting.
Cons:
Weight: 2.53lb.  The heftiest of the group, you really feel it.
No 16-24mm coverage.
Price in US: ~$1599. Aperture range:  f/1.8-16. Available for Nikon, Canon, and Sigma.
Zeiss Milvus 15mm f/2.8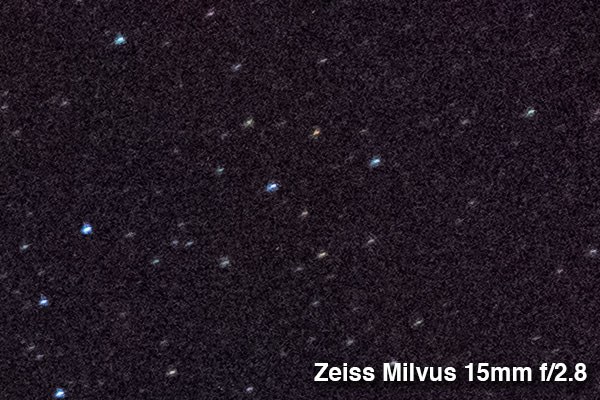 This is a great lens, but I see no compelling reason to buy it at this price. It just doesn't stand out for astrophotography, and the vignetting was disappointing.
Pros:
Image Quality is very good to excellent, but there is significant vignetting in the corners.
Manual focus "lock" makes it easy to initially find stars for focusing.  Zeiss is known for the "lock" at infinity focus.  Zeiss even warns in the instruction manual that the focus is designed to allow over-travel (beyond infinity focus) to allow for temperature camera flange distance variations.  In other words, there is no single lens that could guarantee proper infinity focus on all cameras in a variety of temperatures.  However, the tighter range of over-travel is still useful, as it gives you an easy way to quickly get close to proper focus – so that you can at least see the stars well enough to manually focus.
Weather sealed.
Offer threads for filters (95mm). However, given existing vignetting without a filter, I have some reservations about how useful this feature may be.
Cons
Expensive
Significant vignetting at f/2.8. Deep enough to cause color issues with the Nikon D810 (the D850 should perform better, and the color cast can be corrected). If you are shooting with this lens, be sure to capture an extra frame for the foreground. That's generally a good idea anyhow, but noisy corners could be problematic with this lens under night sky conditions if you don't blend images.
Manual focus only.
No 16-24mm coverage.
Price in US: ~$2699. Aperture range:  f/2.8 to f/22. Available for Nikon and Canon.
Conclusions:
All of these lenses were great for astrophotography, and I'd happily shoot with any of them. They all feel high quality and offer very good to excellent image quality. While I have some strong preferences when pixel peeping the results side by side, I would be proud to print images from any of them – including my Nikon, which was ultimately showed the least impressive results. Looking back on things, I wish I had also tested the Tamron 15-30mm f/2.8, as that lens is likely also a good choice. However, I'd be shocked if it beat that zoom lens could beat the image quality of the prime Sigma Art lens, and I prefer its wider 14mm field of view. But it's definitely an option to consider if you're leaning towards a zoom like the Nikon.
It's important to note that test focused specifically on shooting the night sky. I did not get a chance to shoot the Zeiss and Rokinon in sunrise/sunset conditions, so I can't say how they might hold up for flare. I assume the Zeiss is excellent in that regard, and I wish I'd had an opportunity to test the Rokinon for flare. I found the Sigma was consistent with the level of flaring from direct sun that I see with the Nikon (or better). I captured a beautiful sunrise image with the Sigma that has me impressed that this is an excellent all around lens for landscape photography.
I would recommend the Sigma if you're looking for the best wide-angle night image quality, the Nikon if you want the flexibility to shoot up to 24mm, and the Rokinon if you're on a budget or want a lightweight lens for hiking. I really can't think of any reason to choose the Zeiss – its image quality did not outperform the Sigma, and the price is substantially higher.
Personally, I ended up buying the Sigma after this test. I love it. The image quality was my favorite of the group, the wide aperture gives me lots of options for shooting auroras, the wide aperture helps get manual focus at night, the autofocus makes it easier for daytime shooting, and the price was reasonable. I'll definitely be keeping the Nikon for for situations where I expect to zoom to 24mm. And I'll always be a little envious of the light weight of the Rokinon.
Note:  All weights listed above were measured on a postal scale and may not match official manufacturer specifications.
Disclosure: This article contains affiliate links. See my ethics statement for more information.